THE CASH SOLUTION
Unexpected bills?
Auto repairs, medical emergency, or just not enough cash to make it to your next payday? We can help! $1,000 cash, approval in minutes!
FAST APPROVALS
Need your money fast?
Complete the application (it takes less than 2 minutes). When you're approved, your cash advance loan is waiting in your bank account the next business day!
NO FAXING
Bad credit or no credit?
Even with bad, slow, or no credit, we can put cash in your checking account or savings account when you need it most - and quickly!
Financial difficulties are stressful. We have the solution - what are you waiting for?
US CASH LOANS - $1,000 FAST CASH ADVANCE PAYDAY LOANS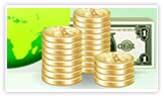 It's easy to get a quick cash payday loan with US Cash Loans! Submit the short form which takes less than two minutes and you could be on your way to a $1,000 cash advance!
Funds are deposited directly into your checking account or savings account. No faxing! No credit check with the "big 3" credit bureaus! What are you waiting for? Get the cash you need - FAST!
APPLY NOW!